HAROLD TESKY - Bomber Dad and Scout Leader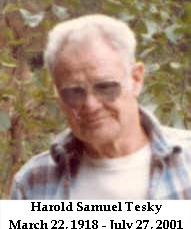 Harold S. Tesky passed away July 27, 2001. Husband, Father, Grandfather, Great-Grandfather and friend to many. He was born on March 22, 1918 in Venturia, North Dakota to Jacob J. and Christina Delzer Tesky.

Harold served 5 years in the U.S. Navy from 1941-1945. Mr. Tesky married Evelyn Anthony on April 6, 1946 and moved to Richland in August 1946. He was an electrician for Dupont, G.E., Battelle, Westinghouse on the Hanford Project and a member of IBEW #1946, until his retirement in 1984.

He is survived by his wife of 55 years, Evelyn, 4 sisters and 2 brothers, son, Michael and wife Carol Tesky and children, Kim and Michael of Kennewick, WA., daughter, Elaine and husband Butch Hawkins and children, Stephanie, Jennifer and Justin of Richland, WA. and five great-grandchildren.

He was preceded in death by his parents, 3 brothers and 1 sister.

Harold was active in the Blue Mt. Council Boy Scouts of America for 38 years until a debilitating stroke in 1994. He received the Silver Beaver Award for Distinguished Service to Youth in 1992.

He volunteered at the Water Follies for 20 years and was a member of the V.F.W. and American Legion. He will be remembered for helping others in time of need.

Memorial contributions may be made to the Muscular Dystrophy Association, Spokane office or the Blue Mt. Council of the Boy Scouts of America.

A Funeral Service will be held at 4:00 P.M., Wednesday August 1, 2001 at Sunset Memorial Gardens, Richland, WA.

Visitation will be on Monday and Tuesday from 2:00 P.M. to 8:00 P.M. at Einan's Funeral Home, Richland, WA.